Tim Kelly
Art is Good and the Puzzle Project are the creation of Tim Kelly, artist, Puzzle Project coordinator and co-founder. Tim was born an artist and lives, works and makes art in Brooklyn, NYC. Art is Good and the Puzzle Project are the embodiment of Tim's beliefs about art and life. He truly believes that everyone can make art and not have to consider themselves an "artist".
The Puzzle Project was created to help people easily create something meaningful. It is best described as an expression project, not an art project. The true measure of success being that thousands of people from all walks of life have made art they are proud of and inspired many to continue creating art. Art is good for you.
Gabrielle Kathleen Nastuck (aka Miss Gabi)
Miss Gabi is the happiest when she is teaching ART! A graduate of Saint Vincent College and the Art Institute of Pittsburgh, she is an artist, art teacher, graphic designer. She is the former Director of Latrobe Art Center leaving in 2017 to open her new passion project Miss Gabi's Art Is Good Studio, in Latrobe, Pennsylvania. Miss Gabi loves bringing out the creativity in individuals of all ages. She especially loves working with children and adults with special needs. Her favorite part of the art process is the when the students discover their voice!! "There's that moment when their eyes light up, pride and confidence sets in, and they realize what they have just created!! They stare at it, smile and say 'LOOK MISS GABI! I DID IT!!' It makes my heart do leaps and bounds because in that moment we have made them see that THEY CAN DO IT and that ANYTHING IS POSSIBLE!!"
Like most things in art and life, it is better shared. The team of artists that bring the Puzzle Art Installation & Collaborative Project to kids, teens and adults are some of the finest artists and people on this beautiful planet.
Theresa Previ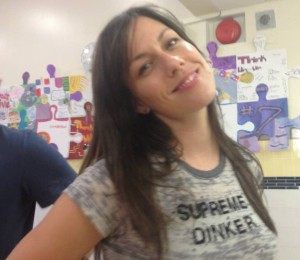 Theresa is the Puzzle Project CEO. As one of our pioneers, she is a great example of how connected the project truly is working alongside her husband, Dave, and her twin sister, Chrissy. Her leadership and creativity have inspired countless puzzle makers from Coast to Coast. Theresa is a glass installation artist and owner/founder of the Design and Branding firm Treemarie in Brooklyn.
Dave Previ
Dave is our Chief Engineer and the perfect partner in crime, I mean art. Dave and Theresa often work in collaboration traveling here and yonder as the projects dictate. When Dave is not inspiring others to create art he is making his own in the form of music. He is a session drummer and percussion teacher. He performs in his home base of Brooklyn as well as national and international venues proving music is also good.
Chrissy Lynn
Think you are seeing double? Nope, Theresa and Chrissy are in fact identical twins. Chrissy is our resident photographer based in San Francisco. She is a fine art and editorial photographer and the owner of Chrissy Lynn Love wedding photography.
Sharon R. Reaves
Sharon manages a private contemporary art collection and is the owner of Reaves Projects. She is an enthusiastic volunteer who loves witnessing that "aha" moment when a non-artist (such as herself) becomes lost in the process and allows inspiration and fun to take over.
Art Doodle
Art the Goldendoodle was born on October 23, 2016. He is registered as an emotional support dog and is currently going through training to become our Art is Good Assistant in the classroom. Art is full of creative energy and cannot wait to get his paws messy!